RETURN TO SEARCH RESULTS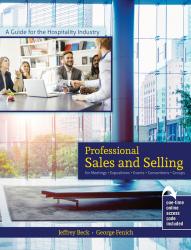 A Guide for the Hospitality Industry: Professional Sales & Selling for Meetings, Expositions, Events, Conventions & Groups
Author(s): George G Fenich, Jeffrey Beck
Edition: 1
Copyright: 2020




Details: Print Prod w/GoReact | 180 days |
Not everyone in Hospitality is in sales, but everyone in Hospitality sells.
Professional Sales and Selling for Meetings, Expositions, Events, Conventions & Groups provides a hands-on approach to the world of sales in a hospitality setting with a focus on MEEC events (Meetings, Events, Exhibitions, and Conventions). One of the largest sources of profit for the hospitality industry, MEEC influence is an imperative area of understanding for anyone entering the field, especially in a sales capacity.
This practical handbook presents an overview of and teaches readers to capitalize on the MEEC arena, providing an applicable sales experience in addition to vital information. The package features sales scenarios for an immersive learning experience, allowing students to maximize the knowledge and skills they acquire.
This publication package includes:
a "role-play" workbook of detailed sales scenarios, allowing students to practice sales concepts as they learn them.
multiple tools to focus readings, including Summaries, Key Terms, Discussion Questions, and Learning Objectives.
large headings and eye-catching tables and graphics for ease of future reference.
access to powerful speech-capture software that allows students to upload sales presentations and videos to receive real-time professor feedback
Prologue by Robert Gilbert
About the Authors
About the Contributing Authors
Chapter 1 Introduction to Meetings, Events, Exhibitions and Conventions, and Allied Hospitality Industries
Introduction
The Process of MEEC Planning
What YOU will learn from this Book
The Outline of this Book
Chapter 2 The Road-map to Sales: Marketing
Introduction
Marketing Principles
Learning About Marketing Through Analogy
Marketing Research
Marketing Function
Marketing Tactics
Chapter 3 Introduction to Sales for MEEC and Hospitality
Introduction
The Nature of MEEC and Hospitality Sales: Different Responsibilities
Various Roles of the MEEC Salesperson
Different Job Opportunities
Job Descriptions and Career Overviews
The Relationship of Sales to Marketing
The Sales Organization in MEEC
The Sales Organization
Sales Meetings
Individual Sales Manager Organizational Activities
Chapter 4 Professional Development in Hospitality Sales
Introduction
What Makes a GREAT Hospitality Sales Professional?
Management of Self
Business Etiquette
Introducing a Client or Guest
Shaking Hands During Introductions
Communication Etiquette
Sales Letter Writing
Professional Appearance
Time Management
Networking
The Thirty-Second Commercial
Ethics
Chapter 5 Communication Skills for Sales
Introduction
The Sales Relationship: Communication Styles
Types of Communication
Selling to the Hospitality Customer: The Customer's Buying Process
The Hospitality Customer's Buying Objectives
Customer Buying Theories Applied to Sales
Chapter 6 Market Segment Behaviors
Introduction
Who Are We Selling To?
Major Market Segments in Hospitality
The Association Market Segment
Selling to Associations
The Corporate Market Segment
Selling to the Corporate Meetings Market
Other Markets
Still Other Markets
The Hospitality Sales Process
Chapter 7 Developing a Strategy for Selling the Product
Four Levels of Product
Solution Selling
Positioning
Chapter 8 Gaining Access to the Prospect
Prospecting
Sources of Prospects
Collecting Information during Prospecting for Access
Meeting the Prospect Face to Face
Chapter 9 Establishing the Sales Dialogue
Introduction
Types of Sales Communication
The Sales Contact Plan
Objectives of the Sales Dialogue
Techniques for Beginning the Sales Dialogue
Determining Customer Needs
Hospitality Sales Questioning Process
The Beck-Farrar Hospitality Question Model
Being a Trusted Consultant: Listening
Establishing Buying Objectives from the Sales Dialogue
Chapter 10 Presenting the Hospitality Product
Introduction – The Importance of the Hospitality Sales Presentation
Describing Features
Offering Benefits
Linking Features and Benefits
Prevent Feature Overload
ACTIVITY: Identifying Benefits Based on a Feature
The Presentation Process
Presentation Formats
Presentation Techniques
Making Effective Presentations
Planning the Effective Presentation
Strategic Selling Materials
Types of SSMs
Making the Presentation
Practice before Presentation
Chapter 11 Getting the Customer to Say Yes
Introduction
Reasons for Concern
Forms of Objections
Sales Stop Signs
The Plan for Addressing Concerns
Techniques for Overcoming Objections
Revenue Management and Sales
Negotiation Techniques
Chapter 12 Asking for the Sale
Introduction
The Plan to Close the Sale
Techniques for Closing the Sale
Hospitality Contracts
The Start of the Relationship
Chapter 13 Service after the Sale
Introduction
Providing Service that Strengthens the Relationship
On-Property Service
Catering/Convention/Event Services
The On-Site Service Process
Resolving Issues
Post-Event Follow Up
Chapter 14 Management of the Sales Force and Practical Applications (Part 1)
Introduction
On-Property Sales
Above Property Sales
Global Sales Manager
Experience
Education
A Day in the Life of a Global Sales Director
About Me
About the Center
About Our Team
Marketing/Communications
Type of Events
How We Book Events
Determining Rental
Generating a Proposal
Site Visits
New Orleans is Selected to Host the Meeting, What's Next
In Conclusion
Chapter 15 Management of the Sales Force and Practical Applications (Part 2)
How Do Prospects Buy Professional Services?
Types of Office Configuration
Lead Generation
Lead Management
The Lukewarm Call vs. the Cold Call
Do Your Research: Drilling Down into the Lead
Affiliated Suppliers Can be a Great Option and Fit
Average Tenure in the Industry Is 21.5 years.
Reasons for Affiliated Industry Desirability
Glossary
Index
Print Package
$99.23
ISBN 9781792416132
Details Print Prod w/GoReact 180 days