RETURN TO SEARCH RESULTS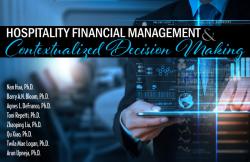 This textbook encompasses four parts, introducing finance theories and contextualized decision making with a clear articulation as to how, individually and collectively, they are shaping the future of hospitality financial management.
Part I sets the foundation of hospitality financial management by introducing the concept of contextualized decision making, revisiting the accounting fundamentals, and providing an overview of hospitality financial management.
Part II centers on explaining financial instruments and markets, financial decision-making behaviors, risks, and risk management in the hospitality context.
The core ideas of value and valuation will be introduced and explained in Part III with user-friendly, Excel-based, real-life examples against the backdrop of the intertwined themes of finance and contextualized decision making. Areas of particular interest include time value of money, projection of future financial benefits, financing the growth of a business, valuation models and decision criteria, and hotel feasibility analysis.
And lastly, Part IV discusses intricacies of hospitality financial management, emphasizing the separation and specialization of several critical management aspects of practice foci with a healthy supply of examples throughout.
This textbook features mini case studies, extensive instructor materials, interactive interfaces, versatile platform accessibility, and built-in test banks readily tailorable.
Module I – Introduction: Setting the Foundation of Hospitality Financial Management
CHAPTER ONE: The Contextualized Financial Management Framework in the Hospitality Industry
CHAPTER TWO: Fundamentals of Financial Statements
CHAPTER THREE: Financial Statement Analysis
CHAPTER FOUR: Benchmarking in the Hospitality Industry
CHAPTER FIVE: The Evolution of Ownership, Functionality, and Specialization
CHAPTER SIX: Issues of the Firm and Property
Module II – Understanding Markets, Risks, and Decision Making Paradigms
CHAPTER SEVEN: Financial Instruments and Markets
CHAPTER EIGHT: Financial Decision Making Paradigms
CHAPTER NINE: Fundamentals of Risk and Return in the Hospitality Industry
CHAPTER TEN: Hospitality Risk Management
Module III – Values and Valuation in Hospitality
CHAPTER ELEVEN: Time Value of Money
CHAPTER TWELVE: Projection of Future Financial Benefits Using Industry Reports
CHAPTER THIRTEEN: Financing the Growth of a Hospitality Business
CHAPTER FOURTEEN: Valuation Models and Decision Criteria
CHAPTER FIFTEEN: Hotel Feasibility Studies
Module IV – Intricacies of Hospitality Financial Management
CHAPTER SIXTEEN: The Must Haves: Investment Package and Negotiation Skills
CHAPTER SEVENTEEN: Asset Management
CHAPTER EIGHTEEN: Hotel Management Agreements
CHAPTER NINETEEN: Hotel and Restaurant Franchise Agreements
Website
$89.25
ISBN 9781792440489
Details KHPContent 180 days