RETURN TO SEARCH RESULTS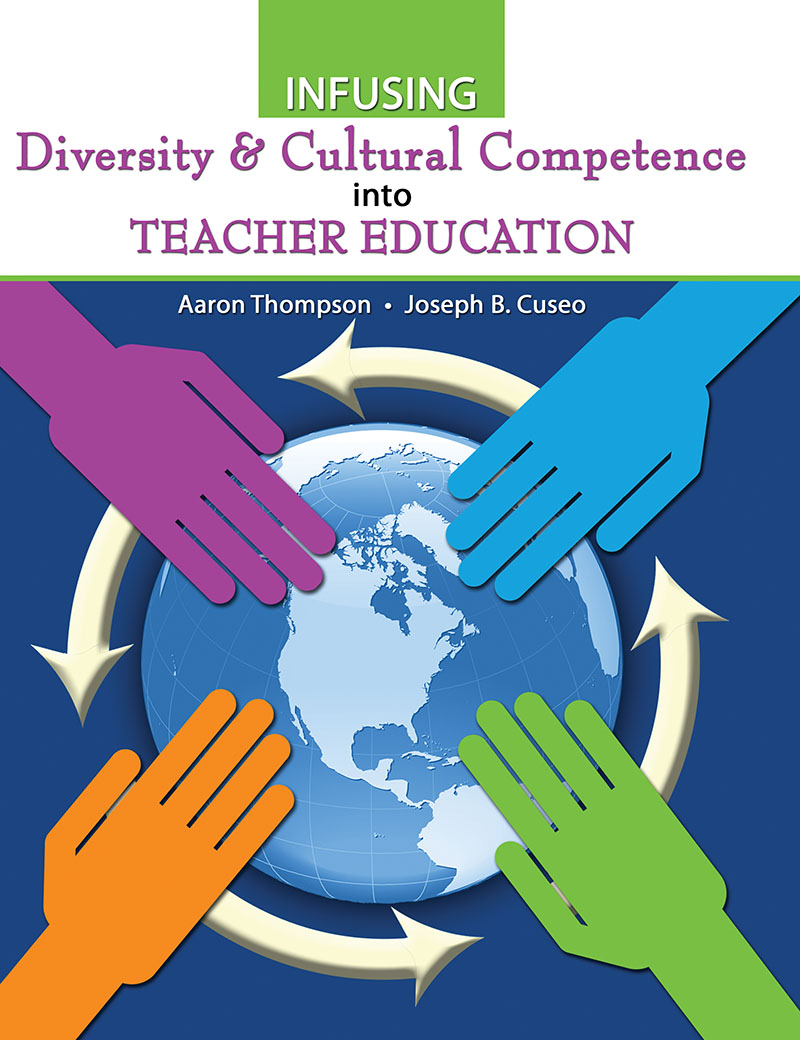 Infusing Diversity and Cultural Competence into Teacher Education
Author(s): Aaron Thompson, Joseph B Cuseo
Edition: 1
Copyright: 2012
Pages: 218
CHOOSE FORMAT ?
Details: Electronic Delivery EBOOK | 180 days |
As teachers face increasing diversity within their classrooms in learning styles, race, linguistics, and culture, the academic rigor needed to successfully enter college or a career will require them to evolve in order for all students to succeed.
Infusing Diversity & Cultural Competence into Teacher Education provides educators and future educators with pathways for achieving cultural competence. Placing this crucial competence in the teacher's toolbox will increase their opportunity and the capacity of ensuring success in and out of the classroom. The tools presented in this book assist the teacher in making gains in closing achievement gaps, building opportunity for all students, building strong pedagogical skills, enhancing curriculum for their diverse students, and constantly assessing all of these areas to ensure they are maintaining their status as the largest contributor to students' success.
Infusing Diversity & Cultural Competence into Teacher Education:
Defines, describes, and explains why diversity should be part of the formal education process
Illustrates student, family, school, and community roles in the learning process.
Describes how to incorporate intercultural communication and relationship building skills into curriculum.
Chapter 1 - Defining and Describing Diversity
What Is Cultural Diversity?
What Is Ethnic Diversity?
What Is Racial Diversity?
Diversity from a Cultural Perspective
Diversity from a Societal Perspective: Differences in Socioeconomic Status (a.k.a., Social Class)
Diversity from a National Perspective
Diversity from an International Perspective
Diversity from a Global Perspective
Diversity from the Perspective of the Universe(Cosmos)
Summary and Conclusion
Exercises

Chapter 2 The Benefits of Diversity Education
1. Diversity Education Develops Self-Knowledge, Self-Awareness, and Self Insight
2. Diversity Education Deepens and Accelerates Learning
3. Diversity Education Strengthens Students' Ability to Think Critically from Multiple Perspectives
4. Diversity Fosters Creative Thinking
5. Diversity Education Promotes Career Preparation for the 21st Century
6. Diversity Expands Social Relationships and Emotional Intelligence
7. Diversity Education Reduces Prejudice and Discrimination in Society
8. Diversity Education Preserves Democracy
Summary and Conclusion
Exercise

Chapter 3 - Appreciating Diversity: Avoiding Stereotypes and Overcoming Biases Stereotyping
Prejudice
Discrimination
Segregation
Causes of Prejudice and Discrimination
Feeling Comfortable with the Familiar and Uncomfortable with the Unknown or Unfamiliar
Using Selective Perception and Selective Memory
Mentally Categorizing People into "In" and "Out" Groups
Perceiving Members of Other Groups as More Alike than Members of One's Own Group
The Tendency of Majority Group Members to Be More Strongly Influenced by Negative Behaviors
Committed by Members of Minority Groups than by Members of Their Own(Majority) Group
Rationalizing Prejudice and Discrimination as Justifiable
Strengthening Self-Esteem through Group Membership and Group Identity
A Personal Development Model for Overcoming Bias and Appreciating Student Diversity
Summary and Conclusion
Exercises

Chapter 4 - The Context for Diversity Education: Student, Family, School, and Community
Student Diversity
Family Diversity
Community Diversity
School Diversity
Summary and Conclusion
Exercises

Chapter 5 - Intercultural Communication and Relationship-Building Skills
Strategies for Interacting with People without Bias or Prejudice
Meeting and Interacting with People from Diverse Backgrounds
Interpersonal Communication Skills: Speaking and Listening
Human Relations Skills (a.k.a., "People Skills")
Take a Leadership Role with Respect to Diversity
Summary and Conclusion
Exercise

Chapter 6 - Teaching for Diversity: Culturally Inclusive and Responsive Instructional Strategies
Making the Student-Teacher Connection: Establishing Rapport with Your Class
Making Student-Student (Peer) Connections: Promoting Peer Interaction and Creating a Sense of Community Among Classmates
Strategies for Improving the Quality of Small Group Learning
Making the Student-Course (Subject) Connection: Engaging Students with the Subject Matter
Summary and Conclusion
Exercise

Chapter 7 - Effective Culturally Inclusive Assessment of Student Learning and Academic Performance
Student Learning Is Promoted by Frequent Assessment Hold High Expectations for All Students
Student Learning Is Promoted by the Delivery of Performance-Improving Feedback
Student Learning Is Enhanced by Exercises or Assignments that Promote Self Assessment and Self-Awareness
Summary and Conclusion
Exercise

Glossary
References
Index
Ebook
$45.00
ISBN 9781465217707
Details Electronic Delivery EBOOK 180 days