RETURN TO SEARCH RESULTS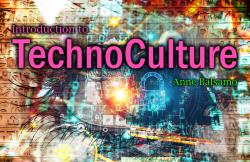 Introduction to TechnoCulture
Author(s): Anne Balsamo
Edition: 2
Copyright: 2022
New Second Edition Now Available!
Dr. Anne Balsamo's Introduction to TechnoCulture introduces the concept of "TechnoCulture" – a term that aptly describes the culture we live in now when technology infuses every aspect of daily life.
We spend upwards of 10 hours a day consuming media through various devices. And that was before the pandemic of 2020, when we became bound to our screens for work, school, friends, news, as well as entertainment. We are both further away and closer together. To communicate we have to synch our devices and our personal habits with those of other people.
As our technology spaces change, so do our social activities. Over days or years, new habits and new routines take shape. These customs become the foundation of a new common (techno)culture. Shifts in cultural beliefs and values, in turn, inspire the development of new technologies.
Introduction to TechnoCulture explores the many ways in which technology and culture are intertwined, to consider how technologies shape culture and how culture transforms technologies. It discusses the intimate intrusion of personal technologies, as well as the social impact of large-scale technological projects.
Introduction to TechnoCulture explores five key questions to encourage us to think more complexly about technology, about culture, and about the many ways in which the two are always inextricably linked.
What is culture?
What is technology?
How have the relationships among humans, technologies, and culture changed over time?
How do we understand the multiple and (often) contradictory effects of technology?
How do we imagine the cultural possibilities (both positive and negative) of emerging technologies?
Students move through the course one module at a time. To complete a module, a student begins with the warm-up exercise, reads and listens to the material, and finishes with the wrap-up exercise. The module presents one page at a time, students unlock the next page in the module when they finish the first one. Once a page is unlocked, students can navigate to any unlocked page within the current module or in a previous unlocked module.
Module 1: Hello World!
Module 2: Evocative Objects
Module 3: Making Meaning for the Eye
Module 4: The Turntable
Module 5: Hidden from History
Module 6: Unintended Consequences
Module 7: Designed for Dreaming
Module 8: Montage of a Dream Deferred
Module 9: Science Fiction Imaginaries
Module 10: What Comes Next?
Website
$92.61
ISBN 9798765739938
Details KHPContent 180 days