RETURN TO SEARCH RESULTS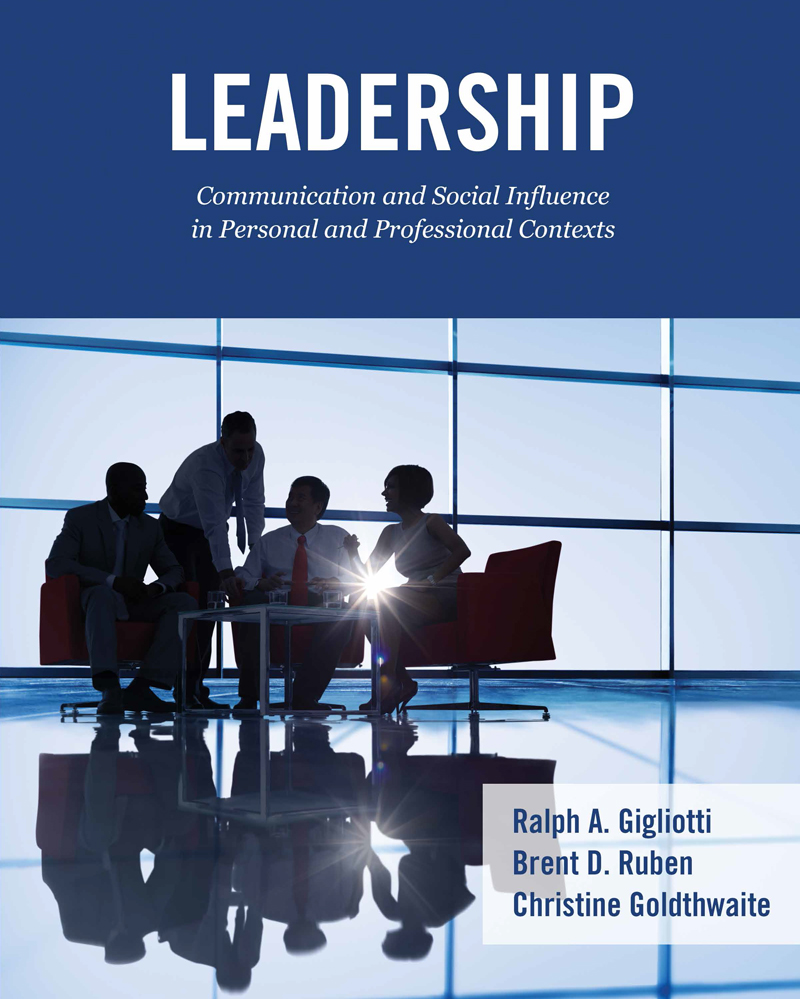 Details: Print Product |
Regardless of one's formal leadership title, academic major, or desired career path, leadership and communication are critical for success.
Leadership: Communication and Social Influence in Personal and Professional Contexts invites the reader to develop a more comprehensive understanding of leadership and the dynamics that occur between leaders and followers through communication. This book provides a point of entry into the study of leadership theory and practice and can be useful as readers interrogate what leadership means, why it matters, and the ways that one can improve his or her effectiveness as a leader—all of which involve a deeper, more nuanced, and greater appreciation for communication.
Leadership: Communication and Social Influence in Personal and Professional Contexts by Ralph Gigliotti, Brent Ruben, and Christine Goldthwaite:
Presents key considerations for thinking through one's understanding of and approach to leadership.
Analyzes possible leadership situations one may encounter in groups, teams, organizations, and communities
Provides a variety of strategies, tools, and models for applied leadership practice that are rooted in communication theory.
Acknowledgements
About the Author
PART ONE: FOUNDATIONAL LEADERSHIP THEORIES AND CONCEPTS
Chapter 1: Understanding Leadership: An Introduction to Study and Practice
Competing Perspectives On Leadership
Leadership: A Communication-Centered Approach
In Pursuit of "Positive" Social Influence
What Makes a Great Leader?
A Roadmap for this Book
Conclusion
Chapter 2: Evolving Views of Leadership: An Overview of Classical, Contemporary, and Competency Theories
Alternative Ways of Understanding the Nature of Leadership
Overview of Leadership Theories
Overview of Popular Leadership Theories
A Competency Approach to Understanding Leadership
Proposed Two-Dimensional Leadership Competency Framework
Summary and Implications
Chapter 3: Leadership Communication Theories and Strategies
What Is Communication?
Leadership-Communication Connections
Leadership Communication: Classical Linear, Interactional, and Systems Models
Useful Leadership Communication Concepts
Communication and Strategic Leadership
A General Approach to Strategic Leadership and Problem Solving
1. Analyze the situation
2. Define the audience(s)
3. Clarify goal(s)
4. Select and implement a plan of action
6. Debrief
Conclusion
Chapter 4: Formal and Informal Leadership
Formal Leadership Roles
Approaches to Decision Making and Problem Solving in Formal Leadership Positions
Informal Leadership Roles
Not Always a Clear Distinction
Functions Served By Formal And Informal Leaders
Power and Influence
Influence Tactics
Formal and Informal Leadership Opportunities Abound
Conclusion
Chapter 5: Understanding Culture in Groups, Teams, and Organizations: The Leader as Cross-Cultural Communicator and Organizational Ethnographer
Culture and Cultural Identity
Cultural Diversity in Society
Organizational Culture
The Leader as Organizational Ethnographer
Intersection of National Culture and Organizational Culture
Leadership and Intercultural Communication Competence
Conclusion
PART TWO: YOUR PERSONAL APPROACH TO LEADERSHIP
Chapter 6: Leadership in Everyday Encounters: Ethics, Values, and Integrity
Ethics, Values, and Integrity
The Practice of Ethical Leadership
Cultivating an Ethical Climate and Culture
The Impact of Ethics on Decision Making
The Ethical use of Power
Conclusion
Chapter 7: The Foundations of Personal and Professional
Leadership: Philosophy, Passion, and Goals
A Leadership Plan for Navigating Complex Terrain
Clarifying your Leadership Philosophy and Purpose
What Values and Guiding Principles Motivate you to Lead?
What is your Passion?
Leadership Goals
A Personal Strategic Plan
The use of Dashboards to Monitor Progress
Learning and Resilience
Conclusion
Chapter 8: Becoming a Better Leader: Personal Assessment and Leadership Development
Personal Leadership Development
The Path to Becoming a Better Leader
1. Clarifying Your Leadership Philosophy
2. Assessing Strengths and Areas for Improvement
3. Committing to Reflective Practice
4. Establishing a Leadership Development Action Plan
5. Following Through
Conclusion
PART THREE: APPLIED LEADERSHIP COMMUNICATION IN PERSONAL AND PROFESSIONAL SETTINGS
Chapter 9: Planning and Change: Principles and Practices
The Big Picture: Understanding the Dynamics of Change
Leading Change in Groups and Organizations
Lemons to Lemonade
Key Cross-Cutting Factors: Five-by-Five Matrix for Planned Change
Conclusion
Chapter 10: Defining and Pursuing a Vision of Excellence: A Framework​ for Groups, Clubs, and Organizations
A Framework for Group and Organizational Excellence
The Self-Assessment Process
Excellence Categories and Key Issues
Ways of Utilizing the Framework
Conclusion
Chapter 11: Teamwork and Conflict in Organizations: Leadership
Trends and Implications Richard Dool
Trends and Their Implications
Key Characteristics of Teams
Attributes of High-Performing Teams
Dysfunctional Team Behaviors
Leading Teams: Challenges and Opportunities
Managing Conflict in Teams, Groups, and Organizations
Approaches to Managing Conflict
Conclusion
Chapter 12: The Digital World: Leadership in an Interconnected Society
Leadership and Followership in a Digital World
Factors Contributing to the Evolution of the Leadership Role
Leadership Perspectives for a New Age
Leadership from a Distance
Leadership and Social Media
Managing your Online Identity as a Leader
Conclusion
Epilogue
References
Appendix A
Appendix B
This book is a must-read for any leadership educator looking to bridge the gap between theory and practice for themselves or the students/staff with whom they work. The concepts are easy to digest and are supported with practical examples and anecdotes that help paint a picture for the reader. I found that I was able to reflect on my own leadership competencies and communication style while simultaneously taking note of the transferable strategies and tips suggested to develop those competencies in others. I'd highly recommend this text for personal and professional development as well as literature that can be used in a classroom, work environment, or other educational setting.
Robyn Ginese
Director of Leadership and Experiential Learning
Rutgers University

I am exceptionally pleased with this new leadership textbook because it has a great balance between theory and practice. For example, it has a succinct chapter which summarizes all of the key leadership theories, but also has chapters with provocative questions and exercises to help the student identify and develop his/her own leadership style. The book is unique in that it overlays communication across the text, highlighting communication as a key element of influence and pointing out the complexities of leadership in a digital world. I taught an MBA class on Executive Leadership with this book as the core material and it was quite useful and well-received by students.
Leon Fraser
Assistant Professor of Professional Practice and Managing Director for Executive Education
Rutgers Business School
Rutgers University
Print
$88.20
ISBN 9781524942137
Details Print Product