RETURN TO SEARCH RESULTS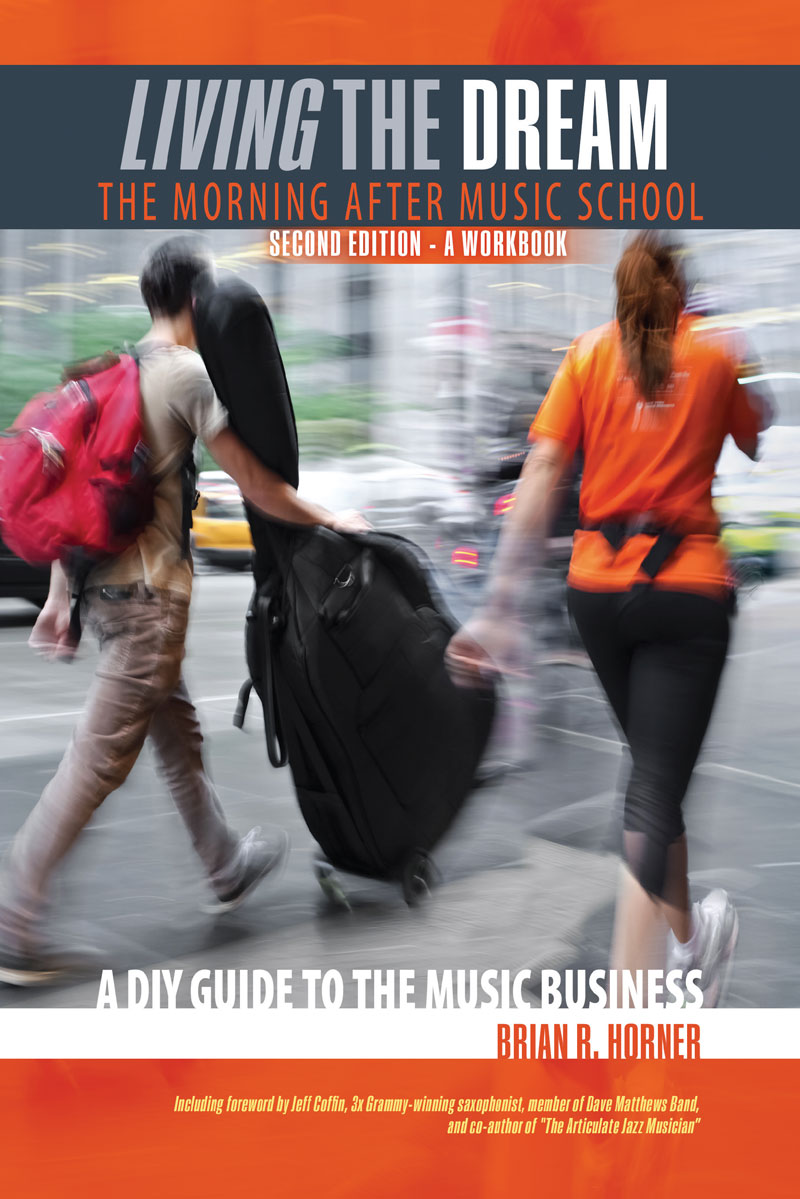 Living the Dream, The Morning After Music School: A DIY Guide to the Music Business
Author(s): Brian Horner
Edition: 2
Copyright: 2017
Pages: 184




Details: Print Product |
Based on parallels drawn between fundamental areas of music performance and their counterparts in the business world, Living The Dream...The Morning After Music School – a DIY guide to the music business offers insights and tools to help current or former music majors navigate life as highly capable musicians trying to put together a living from a variety of income streams. It also exposes them to creative ways of considering their career options that may give them much more hope than they thought possible. In this way, a world that is foreign and overwhelming to many aspiring professional musicians is brought easily and clearly into their comfort zone, equipping them for their quest to build a life doing what they love.
Brian Horner draws from the experience of his nearly twenty-year, dual career as a renowned saxophonist/professor and a businessman. Brian Horner's career as a saxophonist has included recitals at Carnegie Hall, a cover feature in Saxophone Journal, and saxophone and reed endorsements with Conn-Selmer and D'Addario, and his music business career has included everything from non-profit orchestra management to major label country and comedy marketing and publicity, and his current work heading his own company and working with a diverse roster of world-class artists across all genres.
Newly expanded to include reflective essay questions at the conclusion of each chapter, and the sweeping "Recital & Album Project (RAP)." The RAP is designed to be an indispensable tool for music majors and takes the student through the process of presenting a fictional (or perhaps real-life) recital and resulting live album and tour. The author offers examples of each task that is asked, and leads students through the creation of a comprehensive portfolio of materials that can be used in real life as they embark upon their careers.
Foreword from Jeff Coffin
Preface
Acknowledgments
About the Author
CHAPTER 1 Warm Up—An Introduction
CHAPTER 2 Intonation—Playing Well With Others
CHAPTER 3 Rhythm—The Daily Grind
CHAPTER 4 Stage Presence—The Face of the "Company"
CHAPTER 5 Tone & Musicality—Finding Your Voice
CHAPTER 6 Articulation—Attention to Detail
CHAPTER 7 Scales—The Building Blocks of the Business
CHAPTER 8 Repertoire—Programming the Concert of Life
Recital & Album Project—Introduction
Recital & Album Project—Part I: The Concert
Recital & Album Project—Part II: The Album
Recital & Album Project—Part III: The Tour
Appendix
Living The Dream teaches budding musicians what most music schools don't—how to parlay the years in the practice room into a lifelong career, i.e. to live the dream. It covers all the areas where music and business intersect and shows the reader, in a gentle and straightforward way, that success requires both talent and savvy. Read it and start building your foundation.
Don Gorder
Founding Chair, Music Business/Management Department, Berklee College of Music

Living The Dream is an incredibly candid, honest, and to-the-point book full of practical and vitally important advice for young musicians. Brian covers all the most important aspects of 'how to make it in the music business' in a very personable writing style, based on his experience and perspective as a musician, teacher, agent, and manager.
Howard Levy, 2x Grammy-winning pianist, harmonica player and composer

Living The Dream is a great tool for any musician preparing to step into the 'real' world. Horner has translated his experiences in different areas of the music business into useful tips that are rarely discussed but yet so important for any aspiring artist.
Erik Rönmark
General Manager and Artistic Administrator, Detroit Symphony Orchestra

Living The Dream includes valuable information that all musicians can (and should) benefit from.
Victor L. Wooten
5x Grammy-winning bassist, educator, and composer, and author of The Music Lesson – A Spiritual Search For Growth Through Music

Living The Dream is a thoughtful, provocative, instructive and sequential resource. An 'etude' that can yield to greater self-discovery for those looking for increased opportunities in business. Highly recommended.
Donald Sinta
Earl V. Moore Professor of Saxophone, University of Michigan School of Music

Living The Dream takes musicians down a path of forward thinking experiences, winning business strategies, guru wisdom for winning and keeping jobs, and it beautifully articulates the critical knowledge every single musician should know in order to be successful. Living The Dream is the ultimate cookbook for creating and sustaining success in the music industry (and in life) and the wonderful knowledge in this book is spiritually transforming. As an educational tool, Brian's book is a masterpiece and his articulation of the music industry is eloquently insightful. Living The Dream fully captivated my attention like no other book I have read in years. At times I was cheering, at times I was reflecting, at times I was realizing that every musician would fundamentally and deeply change from reading this book, and throughout every chapter I absolutely knew that all students coming through our jazz program at the University of Florida will have Brian's book in their curriculum (I can't wait to test them on every chapter so they are miles ahead of their competition!)
Scott Wilson
Jazz Director, University of Florida

"'My original goal and vision has grown and evolved with me.' –Brian Horner

I don't think that there is a more important concept that a fine artist should embrace for ensuring not only a successful arts career, but a fulfilling one. When one is young and forming goals and visions for their lives, a sheer lack of professional experience can inadvertently compromise one's ability to recognize opportunities that flow in abundance to any who are passionate and willing to try a different way. Living The Dream is as honest as it is empowering. The advice is real—everything from 'take care when writing' to 'don't be high maintenance' is advised as concisely as gentle advice can be given. A departure from the notion that a career in the arts is solely achievable by arduous toil and sacrifice, Brian Horner has, at once, given aspiring artists permission to embrace innumerable different paths to their dreams...paths that may lead one to dreams they never knew they possessed.
Kristen McKeon
Woodwind Product Specialist, D'Addario & Company

Brian Horner is a gifted musician who successfully navigated through the maze of obstacles and successfully made for himself a career in music. He did so by utilizing every gift he possessed, in the music field and otherwise. He has been adept and nimble – being open to investigating the side paths (related opportunities) that presented themselves. In this book, Living the Dream, Brian shares the inside knowledge he has gained while establishing himself in the business of music – all while remaining an active professional performer. I highly recommend this book for any music graduate who aspires to venture down the path as a freelance musician.
Dr. Douglas R. Rose
Chair, Department of Music, Austin Peay State University

Chasing the dream is a marathon, one done for the love of creativity and creation. This is reflected in Brian Horner's written words.
Peter Strickland
Executive Vice President/General Manager, Warner Music Nashville
Living The Dream teaches budding musicians what most music schools don't—how to parlay the years in the practice room into a lifelong career, i.e. to live the dream. It covers all the areas where music and business intersect and shows the reader, in a gentle and straightforward way, that success requires both talent and savvy. Read it and start building your foundation.
Don Gorder
Founding Chair, Music Business/Management Department, Berklee College of Music

Living The Dream is an incredibly candid, honest, and to-the-point book full of practical and vitally important advice for young musicians. Brian covers all the most important aspects of 'how to make it in the music business' in a very personable writing style, based on his experience and perspective as a musician, teacher, agent, and manager.
Howard Levy, 2x Grammy-winning pianist, harmonica player and composer

Living The Dream is a great tool for any musician preparing to step into the 'real' world. Horner has translated his experiences in different areas of the music business into useful tips that are rarely discussed but yet so important for any aspiring artist.
Erik Rönmark
General Manager and Artistic Administrator, Detroit Symphony Orchestra

Living The Dream includes valuable information that all musicians can (and should) benefit from.
Victor L. Wooten
5x Grammy-winning bassist, educator, and composer, and author of The Music Lesson – A Spiritual Search For Growth Through Music

Living The Dream is a thoughtful, provocative, instructive and sequential resource. An 'etude' that can yield to greater self-discovery for those looking for increased opportunities in business. Highly recommended.
Donald Sinta
Earl V. Moore Professor of Saxophone, University of Michigan School of Music

Living The Dream takes musicians down a path of forward thinking experiences, winning business strategies, guru wisdom for winning and keeping jobs, and it beautifully articulates the critical knowledge every single musician should know in order to be successful. Living The Dream is the ultimate cookbook for creating and sustaining success in the music industry (and in life) and the wonderful knowledge in this book is spiritually transforming. As an educational tool, Brian's book is a masterpiece and his articulation of the music industry is eloquently insightful. Living The Dream fully captivated my attention like no other book I have read in years. At times I was cheering, at times I was reflecting, at times I was realizing that every musician would fundamentally and deeply change from reading this book, and throughout every chapter I absolutely knew that all students coming through our jazz program at the University of Florida will have Brian's book in their curriculum (I can't wait to test them on every chapter so they are miles ahead of their competition!)
Scott Wilson
Jazz Director, University of Florida

"'My original goal and vision has grown and evolved with me.' –Brian Horner

I don't think that there is a more important concept that a fine artist should embrace for ensuring not only a successful arts career, but a fulfilling one. When one is young and forming goals and visions for their lives, a sheer lack of professional experience can inadvertently compromise one's ability to recognize opportunities that flow in abundance to any who are passionate and willing to try a different way. Living The Dream is as honest as it is empowering. The advice is real—everything from 'take care when writing' to 'don't be high maintenance' is advised as concisely as gentle advice can be given. A departure from the notion that a career in the arts is solely achievable by arduous toil and sacrifice, Brian Horner has, at once, given aspiring artists permission to embrace innumerable different paths to their dreams...paths that may lead one to dreams they never knew they possessed.
Kristen McKeon
Woodwind Product Specialist, D'Addario & Company

Brian Horner is a gifted musician who successfully navigated through the maze of obstacles and successfully made for himself a career in music. He did so by utilizing every gift he possessed, in the music field and otherwise. He has been adept and nimble – being open to investigating the side paths (related opportunities) that presented themselves. In this book, Living the Dream, Brian shares the inside knowledge he has gained while establishing himself in the business of music – all while remaining an active professional performer. I highly recommend this book for any music graduate who aspires to venture down the path as a freelance musician.
Dr. Douglas R. Rose
Chair, Department of Music, Austin Peay State University

Chasing the dream is a marathon, one done for the love of creativity and creation. This is reflected in Brian Horner's written words.
Peter Strickland
Executive Vice President/General Manager, Warner Music Nashville
Print
$34.73
ISBN 9781524936303
Details Print Product