RETURN TO SEARCH RESULTS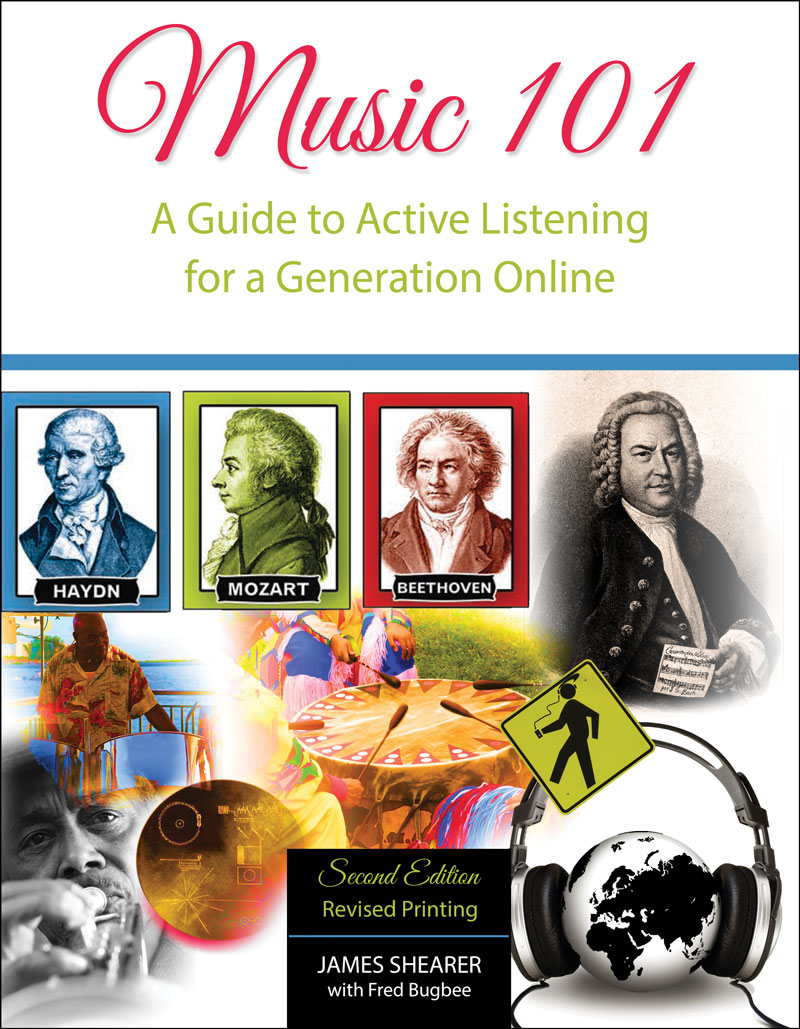 Music 101: A Guide to Active Listening for a Generation Online presents a balance of commentary, historical documentation, and insightful listening guides into the diverse world of classical, jazz, and world music. Music 101 is a highly readable text that offers students a lifelong guide into all forms of music. They will not only learn about the history of music and the various genres, but how to listen to music.
This enhanced interactive learning package includes:
Streaming access with over 5 hours of some of the finest classical music ever recorded.
A companion Web site with numerous ancillaries: PowerPoint® presentations, online homework, chapter reviews and quizzes, and a test bank.
Each recorded selection has a coinciding listening guide found within the appropriate chapter of the text. In addition, each listening guide uses time-codes along with descriptive explanations of what is happening within that given section of the music. With most vocal selections, both the original text and an English translation have been provided.
Each chapter offers extended reading passages drawn from historical documents, letters, and other famous publications. These diverse items include everything from Bach's contract with the Town of Leipzig to Frank Zappa's 1984 keynote address to the American Society of University Composers.
All important terms and concepts are presented in boldface. Wide outside margins also contain matching boldface terms to help students quickly locate a specific definition or musical concept. These wide margins also allow space for quick notes at any given point of interest.
Each chapter contains a study guide that may be extracted from the text without the loss of other important book materials.
Where appropriate, you will find special "Focus On Form" sections that offer more detailed information on specific topics in a very concise manner. These topics are offset to facilitate ease of study and to keep the more complex information out of the conversational body of the general text.
New to the second edition of the book are "Dig Deeper" sections that offer students and teachers research sources for more detailed information on a given subject. The principal categories include websites, books, movies, and recordings, but other resources are also offered as needed from topic to topic.
Classical Listening Guides
Foreword
Preface
Acknowledgments
Acknowledgments for the Second Edition
A Note about the Listening Guides and the Streaming Listening Materials that Accompany this Textbook
Chapter 1-The Basic Elements of Classical Music
Chapter 2-The Middle Ages
Chapter 3-The Renaissance
Chapter 4-The Baroque Era
Chapter 5-The Classical Era
Chapter 6-The Romantic Era
Chapter 7-Impressionism and Post-Romanticism
Chapter 8-Modern Music, 1900-1950
Chapter 9-Modern Music, 1950-Present
Interlude: Some Thoughts about the Future of Classical Music
Chapter 10-Jazz: America's Classical Music
Chapter 11-Around the World in 58 Pages or Less
Appendix A Websites for Classical Music, Jazz, and World Music
Appendix B 10 Music Festivals You Should Attend Before You Die
Appendix C Some Thoughts on Shopping for Classical, Jazz, and World Music CDs
Glossary
Selected Bibliography
Index
Print Package
$116.00
ISBN 9781524904227
Details Print Prod w/Webcom Code