RETURN TO SEARCH RESULTS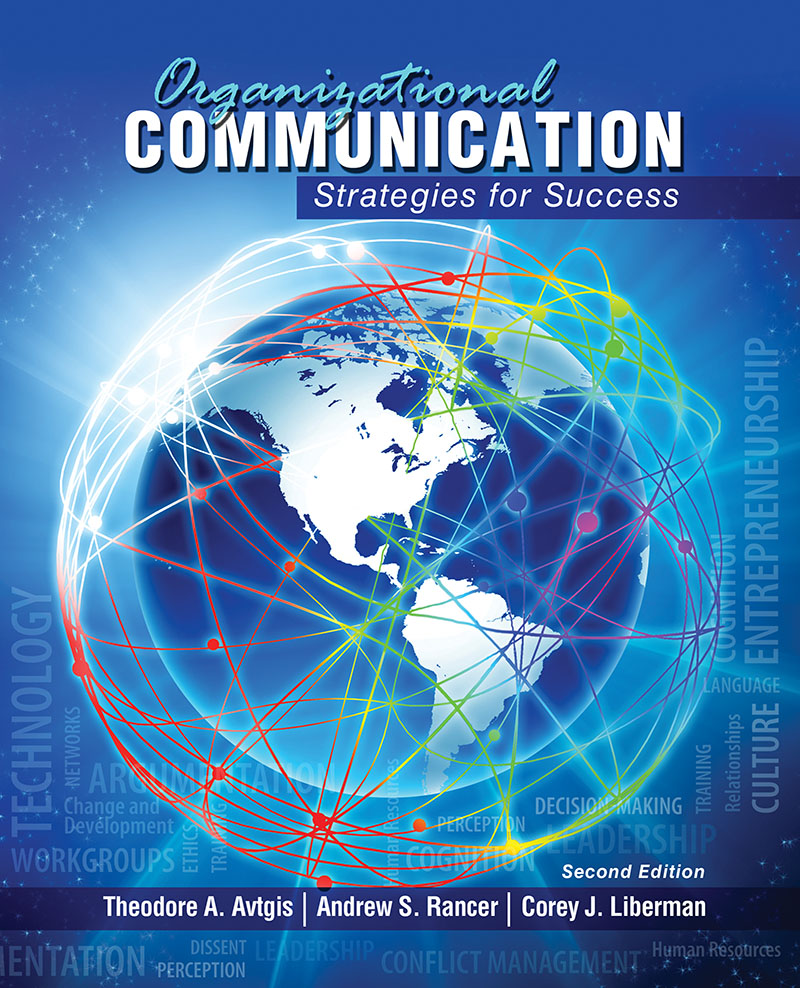 Details: eBook w/KHPContent Access | 180 days |
Organizational Communication: Strategies for Success is theoretically-enhanced through the application of traditional organizational communication theory fused with real-world practical applications. Authors Theodore Avtgis, Andrew Rancer, and Corey Liberman have created an innovative organizational communication package that is grounded in sound pedagogical theory.
Written in an accessible, user-friendly way for both undergraduate and graduate students, Organizational Communication: Strategies for Success is the smartest organizational communication package on the market. Seamlessly integrated within the framework of the textbook, the new 2nd edition includes an accompanying website with interactive activities that give practical utility of theories, video clips from popular culture, and classroom management software. In addition, QR codes embedded within the textbook link additional online information.
Organizational Communication: Strategies for Success:
Is primarily social science–based, yet addresses important critical cultural elements.
Utilizes communication research as well as research from other disciplines (e.g., Psychology, Business, Management, and Sociology).
Includes new chapters on The Role of Culture in the Process of Organizing, Relational Communication within the Organization, and Communication and Effective Group Practices.
Includes up-to-date material on hot topics such as networking, ethics, and social media.
Chapter 1 Organizational Perspectives and Perceptions
Learning Objectives
Key Terms
Evolutionary/Ecological Perspective
Systems Perspective
Critical Perspective
Organizational Perception
Attributing Meaning to Behavior
Rules for Attributing Meaning to Behavior
Biases in the Attribution Process
Employee Perspectives
Morgan's Multiple Perceptions
Summary
Questions for Discussion and Review
References

Chapter 2 Ways of Organizing Human Beings
Learning Objectives
Key Terms
Classical Management Approaches
Taylor's Time-Motion Efficiency
Weber's Bureaucracy
Fayol's Lateral Communication
Human Relations Approach
Hawthorne Studies
Human Resource Approaches to Management
Likert System 4 Management Approach
McGregor's Theory X and Theory Y
Ouchi's Theory Z
Argyris' Model I and Model II Approach
Blake and Mouton's Managerial Grid
The Theory of Independent Mindedness
Summary
Questions for Discussion and Review
References

Chapter 3 Defining Organizational Culture
Learning Objectives
Key Terms
Defining Organizational Culture
Factors Associated with an Organization's Culture
Organizational Socialization
Organizational Culture as Enabling and Constraining
Summary
Questions for Discussion and Review
References

Part 2 Navigating Relational Rules of the Organization Navigating Relational Rules of the Organization
Chapter 4 Language in the Workplace
Learning Objectives
Key Terms
Language Styles
Language Perception
Language and Power
Language and Interaction
Language Expectancy Theory
Language and Sexual Harassment
Summary
Questions for Discussion and Review
References

Chapter 5 Defining Relationships
Learning Objectives
Key Terms
Types of Organizational Relationships
Superior–Subordinate Organizational Relationships
Advantages of Organizational Relationships
Complications Associated with Organizational Relationships
Organizational Social Networks
Strength of Organizational Ties
Relationships and Public Relations
Methods for Studying Organizational Relationships
Summary
Questions for Discussion and Review
References

Chapter 6 Personality and Organizational Life
Learning Objectives
Key Terms
Personality Traits
Japanese Blood Typing
The Chinese Zodiac
General Personality Traits
Communication Conflict–Related Traits
Verbal Aggressiveness
Argumentativeness
Taking Conflict Personally
Tolerance for Disagreement
Competence-Related Traits
Communicator Style
Cognitive Flexibility
Communicative Adaptability
Summary
Questions for Discussion and Review
References

Chapter 7 Defining Small Groups
Learning Objectives
Key Terms
Different Types of Small Groups
Stages of Group Formation
Advantages of Small Groups
Disadvantages of Small Groups
Roles in Small Groups
Types of Small Group Networks
The Role of Technology in Small Groups
Summary
Questions for Discussion and Review
References

Part 3 Character and Leadership in the Organization
Chapter 8 Strategic Leadership and Entrepreneurial Spirit
Learning Objectives
Key Terms
Leadership
Leadership Perspectives
Organizations as Leaders
Applied Leadership
Motivation
Maslow's Hierarchy of Needs
Motivator Hygiene Theory
Acquired Needs Theory
Entrepreneurial Spirit
Background and Personality Factors
Summary
Questions for Discussion and Review
References

Chapter 9 Ethics and Expression in the Workplace
Learning Objectives
Key Terms
Ethical Perspectives
Foundational Ethical Perspective
Situational Ethical Perspective
Deontological Ethical Perspective
Utilitarian Ethical Perspective
Rights/Justice-Based Ethical Perspective
Relationship-Based Ethical Perspective
Stakeholder Theory
Ethical Considerations in Communication
Nonverbal Behavior and Ethics
Practices of an Ethical Organization
The Ethical Wheel
Personal Dimension of Ethics
Primary Social Group Dimension of Ethics
Secondary Social Group Dimension of Ethics
Professional Dimension of Ethics
Organizational Dissent
Dimensions of Dissent
Issues of Dissent
Strategies of Dissent
Whistleblowing
Indirect Interpersonal Aggression
Real-World Misbehaviors in the Workplace
Practical Advice on When to Speak
Summary
Questions for Discussion and Review
References

Chapter 10 Decision Making, Organizational Information Processing, and Organizational Change
Learning Objectives
Key Terms
Decision Making
Functional Approach
Thompson's Uncertainty Model
Vroom's Decision-Making Styles
Simon's Activity Approach
Decision Making as Art and Politics
Idea Generation
The Inventional System
Information Processing
Information Systems Theory
Informational Reception Apprehension
Uncertainty Management Theory
Organizational Change
Strategic Change
Organizational Innovation
Summary
Questions for Discussion and Review
References

Part 4 Applied Organizational Communication
Chapter 11 Communication and Training
Learning Objectives
Key Terms
Defining Organizational Training
Organizational Training in the Structure of the Organization
When Training Is Needed, and When It Is Not
The Role of the Communication Trainer
Skills and Abilities Critical for a Career in Training
The Need for Training
Levels of Competency
Creating an Interactive Training Program
Conducting a Needs Assessment
Selecting and Narrowing the Topic
Conducting Research and Developing Content
Writing Instructional and Behavioral Objectives
Reasons for Objectives
Writing the Instructor's and Participants' Manuals
The Instructor's Manual
The Participants' Manual
Delivering the Program
Delivering a Lecture
Designing and Including Experiential Activities in Training
The Role-Play
Case Studies
Games
Instruments
Using Instructional Aids
Essential Presentation Skills
Evaluating Training
The Efficacy of Communication Training
Summary
Questions for Discussion and Review
References
Appendix to Chapter 11

Chapter 12 Communication and Organizational Development
Learning Objectives
Key Terms
What Is Organizational Development?
The Roots of Organizational Development
Action Research: The Foundational Method for Organizational Change
Resistance to Change
Managing Organizational Change
Lewin's Three-Step Model of Organizational Change
The Role of Communication in Managing Organizational Change
A Blueprint for Communication During the Implementation of Organizational Change
Case Studies in Managing Organizational Change
Two Approaches to Communication and Organizational Development
Appreciative Inquiry
An Assessment of the AR and AI Models of Organizational Development and Change
Team Building
An Appreciative Inquiry Approach to Team Building
Summary
Questions for Discussion and Review
References

Chapter 13 Analyzing Organizational Communication
Learning Objectives
Key Terms
The Importance of Assessing Organizational Communication
What Is a Communication Assessment?
Benefits of Conducting a Formal Organizational Communication Assessment or Audit
Survey Research in the Organization
Advantages of Organizational Survey Research
The Seven Steps of Effective Organizational Survey Research
The Issues of Reliability and Validity in Organizational Survey Research
Benefits of Conducting a Communication Audit
Established Communication Assessment and Audit Tools
The International Communication Association (ICA) Audit
The Downs-Hazen Communication Satisfaction Questionnaire
Organizational Identification and Organizational Commitment
Organizational Identification
Organizational Commitment
Communication Network Analysis
Summary
Questions for Discussion and Review
References
Conclusion
Glossary
Subject Index
Name Index
I can only say, "Beautiful." With all due respect to some other big names in our field, regarding his chapter on Training Organizational Members, I feel that Avtgis not only hit the ball out of the park, he knocked the cover off it, too. This chapter alone is worth the price of Organizational Communication: Strategies for Success!
Alfred Mueller, Mount St. Mary's University
Ebook Package
$75.24
ISBN 9781465208163
Details eBook w/KHPContent Access 180 days