RETURN TO SEARCH RESULTS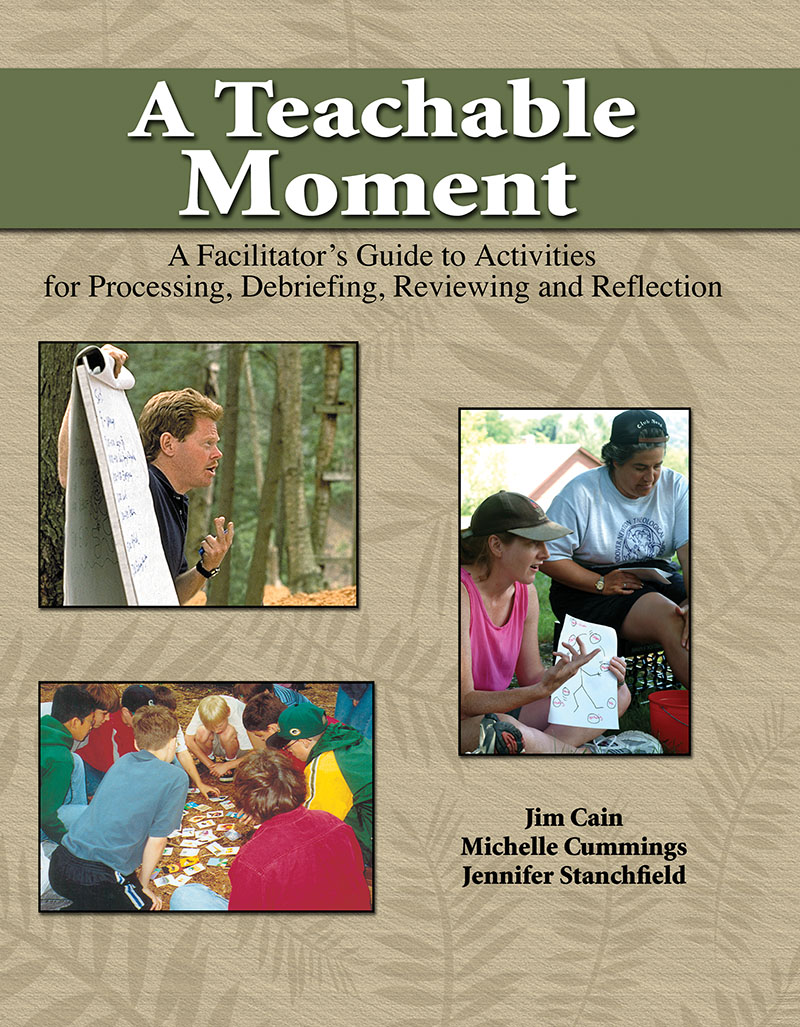 Details: Electronic Delivery EBOOK | 180 days |
If you need to know "what comes after the teambuilding activity?" this book is for you!
Jim Cain, Michelle Cummings and Jennifer Stanchfield have collectively been active in adventure-based and active learning programs for almost a century. From their extensive facilitation background, here are the best of their techniques, methods and activities for engaging participants in active and meaningful processing, debriefing and program reviewing sessions.
Processing helps learners make connections between their educational experiences and real life and future learning. It helps learners realize that they can apply the lessons they learn and skills they use in a "contrived environment" such as a classroom or challenge course to real life issues such as resolving a conflict with friends, co-workers or significant others. Processing helps create purpose, meaning and focus of an activity it helps learners take advantage of teachable moments.
A Teachable Moment is packed with over 120 activities to help you, the facilitator, help your participants transfer their learning back to everyday life. A Teachable Moment is perfect for new, as well as seasoned, facilitators.
A Brief History
The Value of Reflection
A Continuum of Processing Techniques
Processing and Multiple Intelligences: Eight Ways of Reviewing
Reviewing and the Stages of Group Formation: Forming, Storming, Norming, Performing and Transforming in Experiential Learning
The Art of Reflection: Facilitator Tips and Style Notes
Improving Your Reviewing Skills: A Ten-Step Process to Increase Your Value as a Facilitator
Sequencing
Processing Objectives and Questions
The Organization of Activities in This Book
Active and Kinesthetic Techniques
Artistic Expressions: Creative, Artistic, Musical and Theatrical
Alternatives to the Traditional Sharing Circle
Metaphoric Methods or Symbolic Representations of Experience
Individual and Self-Reflection
Activity Section:Activities for Processing, Debriefing, Reviewing and Reflection
Affirmation Cards
All My Neighbors Who . . .
Alphabet Blocks
Answering the Question
Balloon Blow
Balloon Faces
Bead Ceremony
Bendy Debrief
Benefits to Society
Body Part Debrief
Bucket Full of Ideas
Butterfly Life Cycle Debrief
Buzz Ring
Chiji Processing Dice©
A Circle of Kindness
Circles of Influence
Clay Sculptures
Clothesline
Concentric Circles
Consensus Cards
Consensus Thumbs
Conversation Cards©
Creating Available Space
Creative Questions
Crossword Ending
Crystal Clear
Debriefing Bingo
Debriefing Tic Tac Toe
Dinner Notes
Domino Debrief
Efficiency and Effectiveness
Fear in a Hat
Feelings Cards
The Fine Art of Reviewing
Five Basic Elements of Reviewing
Food for Thought
Freebie
Friendship Bracelets
Full Court Press
Gem Story
Goals in Motion
Group Drawing
Group Juggle Metaphor Drawing
Half Time Review
Hand Signals
Having My Say
Hieroglyphics
High Five
House of Nails
How's the Weather?
Image Chips
Impression Feet
Index Card Castles
Index Card Debrief
I Would Like to Thank . . .
Jars
Journaling
Journaling (a few more ideas)
Key Consensus
Knot Race
Labyrinth Walk
Later Letters
Learning Rope
Leave Your Mark
Lights, Camera, Action!
Looking Ahead
Lycra Tube
The Magical Box
Making Music
Masks
A Message for Future Generations
Message in a Bottle
Metaphoric Cards
Mood Dudes
On the Level
Partner Watch
A Pencil That Never Lies
Playing Cards
Plus Delta
Pocket Medic Debrief
Pocket Processor
Poetry Dog Tags
Processing Cube
Puzzles
Raccoon Circles
Random Ricochet
Rap Songs
Reflective Readings
Rhythm Processing Experiences
Right Tool for the Job
Self Facilitation
Shuffle Left, Shuffle Right
Solo Experience
S.O.S.
Soul of Sole II
Step into the Circle
Sticks in a Bundle
Stones
Stop `N Go PRE-brief
Story Bag
SWOT Training
Talking Stick
Team Resume
Thought Balloons
Thumbs Up
Time Capsule
Timing Is Everything
Tool Cards
Traffic Signs
Treasure Chest
Treasure Chest-Mini Version
Trigger Bill
Updating Your Resume
Virtual Slideshow
Voicemail
Walk a Mile in Your Shoes
Web of Commitment
Well-Oiled Machine
What I Know, What I Want to Know, What I'
Ebook
$32.98
ISBN 9781465227881
Details Electronic Delivery EBOOK 180 days