RETURN TO SEARCH RESULTS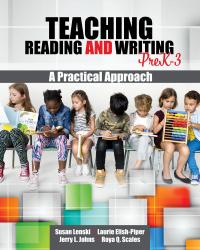 Details: Print Prod w/Ancillary Site | 180 days |
Effective literacy instruction lies at the intersection of theory and practice. But how does one combine these principles to design and implement effective reading and writing lessons that are accessible, engaging, and practical?
Teaching Reading and Writing PreK-3 provides preservice teachers with a multi-layered approach for creating strategies to guide student literacy from kindergarten through grade three. Written directly to the reader with inclusive language, it incorporates recurring themes vital for the nurturing of literacy, such as connecting theory to clinical placements; student diversity; equity; differentiating instruction for various abilities; the instruction-assessment cycle, and more.
This user-friendly text empowers readers to implement strategies for literacy instruction, creating learner-ready teachers who can effectively teach from Day 1. In addition, Teaching Reading and Writing PreK-3 helps readers identify their own unique opinions and viewpoints, helping them to discover and shape their identities as teachers.
The text connects ideas to practical teaching through a variety of features:
Real-Life Examples: vignettes introduce each chapter and are focused on teacher candidates working in classroom settings
Connection to the Field: specific activities help readers immediately put concepts into practice in their clinical placements
Engaging with Families: concrete ideas that involve student families (with consent of a mentor teacher)
Lesson Planning: sample outlines demonstrate exactly how to plan effective reading lessons that meet standards and apply concepts from the book
What Do You Believe: templates for teaching candidates to reflect on chapter content and consider how it influences their teaching beliefs, culminating in a literacy learning philosophy in the final chapter
Companion Website: this publication includes access to a companion website that compiles the resources found in each chapter, as well as templates, organizers, and record sheets
And much more!
View Companion Website Contents
Section I: Developing the Building Blocks for Teaching Reading and Writing
Chapter 1: Why Focus on Teaching Reading and Writing?
Chapter 2: What Are the Foundations of Literacy Instruction?
Chapter 3: What Is the Role of Assessment in Teaching?
Chapter 4: How Do I Promote Engaged Learning?
Section II: How to Teach Reading and Writing
Chapter 5: How Do I Teach Print Concepts and the Alphabet?
Chapter 6: How Do I Teach Phonemic Awareness?
Chapter 7: How Do I Teach Students to Recognize and Spell Unknown Words?
Chapter 8: How Do I Teach Fluency?
Chapter 9: How Do I Teach Vocabulary?
Chapter 10: How Do I Teach Reading Comprehension?
Chapter 11: How Do I Teach Writing?
Section III: How Do I Put It All Together?
Chapter 12: How Are Reading and Writing Instruction Organized in the Classroom?
Chapter 13: How Do I Support My Students' Literacy Learning?: Working with Families, Colleagues, and Community Members
Chapter 14: How Do I Become a Learner-ready Teacher?
References
Index
Morgan:
The strategies provided within Chapter 9 gave me a sense of direction for teaching vocabulary and has assisted me in knowing ways to better support my students with different needs…I feel more confident about my teaching.
Mikayla:
I am overwhelmed at the thought of becoming a teacher, therefore, the "Learner-Ready" chapter (Chapter 14) has helped boost my confidence. It is one that I will refer back to in the future, especially during my first year of teaching.
Print Package
$88.20
ISBN 9781792421495
Details Print Prod w/Ancillary Site 180 days