RETURN TO SEARCH RESULTS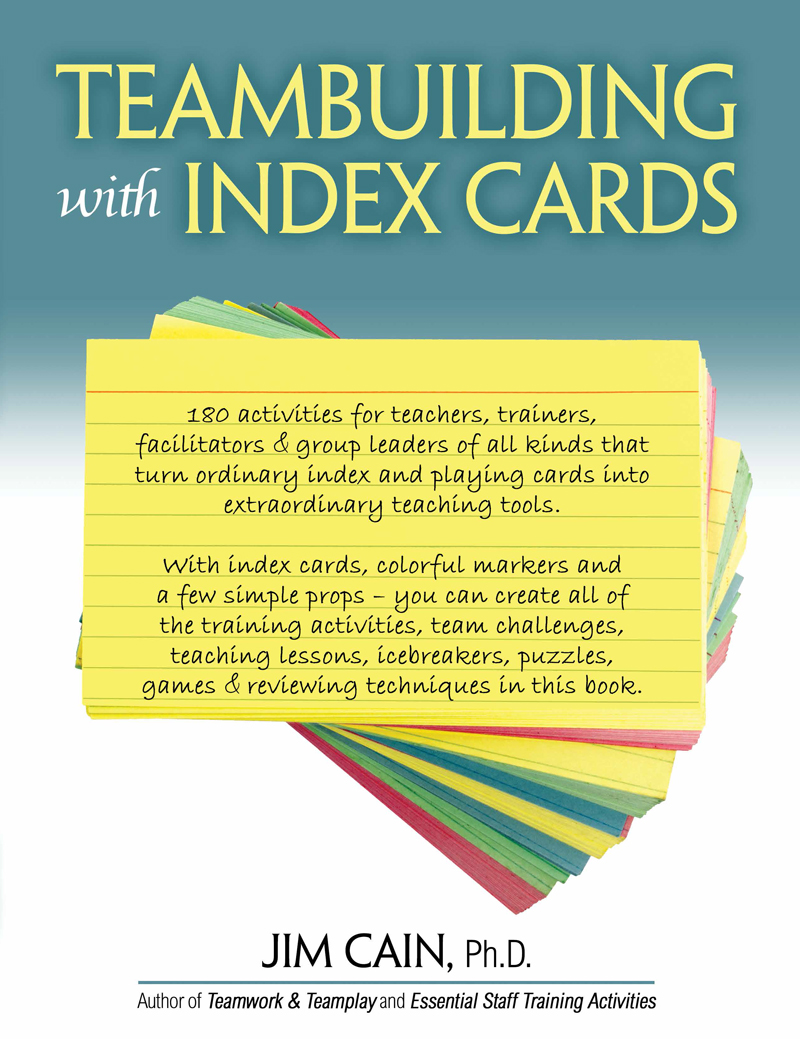 Teambuilding with Index Cards
Author(s): James Cain
Edition: 1
Copyright: 2019
Pages: 258




Details: Print Product |
Here are one hundred and eighty simple, valuable, engaging, effective and just plain fun activities that you can create using index cards, markers and a few simple props.
If your next training, team building, classroom or corporate event requires some amazing activities with limited props or with a limited budget, this is the perfect book for you! Your audience will be talking about the effective outcomes of your session long after the activities are over!
From painless icebreakers to powerful communication activities, and from group challenges to meaningful team and community building activities, the contents of this book will not only maximize the engagement of your group, but they will also make you a more effective teacher, trainer, facilitator and group leader.
Teambuilding guru Dr. Jim Cain is the author of many outstanding books filled with valuable team and community building activities, challenges, games and methods for effectively engaging groups, including: Teamwork & Teamplay, A Teachable Moment, Teambuilding Puzzles, The Revised and Expanded Book of Raccoon Circles, Essential Staff Training Activities, The Teamwork & Teamplay Training Cards, The Big Book of Low Cost Training Activities, 100 Activities That Build Unity, Community & Connection, Rope Games, The Teamwork & Teamplay International Edition, Find Something To Do! and this book, Teambuilding with Index Cards.
For more information about Dr. Jim Cain and Teamwork & Teamplay, visit: www.teamworkandteamplay.com
INTRODUCTION
A Little Inspiration and a True Story
INDEX CARD ACTIVITIES
1. Icebreakers and Opening Activities
2. Team Challenges
3. Puzzles and Games
4. Reviewing, Reflection, and Closing Activities
5. Creative Things to Do with Playing Cards
6. Special Activities for Teachers, Trainers, and Facilitators
7. Bonus Activities
CREATING YOUR OWN COLLECTION OF INDEX CARD ACTIVITIES
Recommendations, Tips, Ideas, and Suggestions for Creating and Storing Your Own Collection of Index Card Games and Activities
RESOURCES AND REFERENCES
Books with Card Activities
About Jim Cain and Teamwork & Teamplay
The Teamwork & Teamplay Training Cards
The Teambuilding with Index Cards Playlist
What People Are Saying about Jim Cain's New Book Teambuilding with Index Cards
It seems like our school district is always reducing our training budget dollars. When our most recent budget allocated less than $50 dollars for training resources, I was worried that we would have to cancel our staff teambuilding workshop this year. Luckily a friend shared with me your Teambuilding with Index Cards book and I created all the resources I needed for almost no money at all. Now my boss thinks I am a teambuilding genius!
When my training department supervisor asked me for my equipment budget request for the year, I told her I only needed ten packs of index cards. Then I showed her a copy of the book Teambuilding with Index Cards. Now everyone in our department has a copy.
Our school may not have all the resources that bigger schools have, but we do have offi ce supplies! That resource and the book Teambuilding with Index Cards enabled me to teach some powerful lessons this past year.
I was pressed for time preparing for a last-minute teambuilding workshop. With no time to purchase teambuilding props, this book was a lifesaver. I just opened the pages, grabbed some markers and index cards and created everything I needed to keep a group of 23 participants engaged for two whole hours. Thanks Jim!
An entire teambuilding program in a deck of cards. Wonderful!
Once again Jim Cain has made the complicated and occasionally diffi cult challenge of facilitating teambuilding programs very simple indeed.
I spent an hour with your book today and created enough index card training activities to last an entire semester!
I was skeptical that index cards alone could be a valuable teambuilding resource, until I tried a few of the activities from your book. Not only are the props for these activities inexpensive and lightweight, but the activities themselves produce outstanding results with my audiences and workshop participants. I have become a true believer!
Print
$40.00
ISBN 9781524964986
Details Print Product