The long-term future of writing is unclear. What is more apparent is that the personal, professional, and academic products of writing are trending toward new genres and spaces for communication. As the categories of writing expand, so must our ability to adapt and work effectively within these changes.
The Elements of Composition allows students to build a set of skills and processes in the production of both traditional and modern compositions.
It merges the traditional academic goals of instructors with the genres that students recognize and...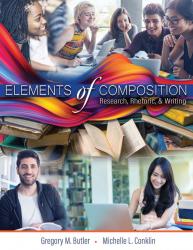 Elements of Composition: Research, Rhetoric, & Writing is a comprehensive first-year composition textbook that covers all aspects of formal academic writing. The first five chapters in part 1 focus on preparing students for all writing situations. Students will learn to navigate purpose and audience; to write effective introduction, body, and conclusion paragraphs; to create successful thesis statements; and to read and write rhetorically. Part 2's chapters review essential grammar skills to enhance writing proficiency. Of particular note in this section are...